Planning an outdoor wedding is a lot different than planning one indoors. There are many decisions to make, and certain things that you can't control. To help you with your planning, I've compiled five foolproof ways to plan an outdoor wedding!
How to Plan an Outdoor Wedding
What do you mean by Outdoor Wedding?
When I say an outdoor wedding, many people might have different ideas of what that means. Of course, almost all weddings involve being outdoor at some point or another. That's not what I mean. I mean a wedding that is entirely or almost entirely outside and not in closed buildings. You could have something like a pavilion, but that would still be outside.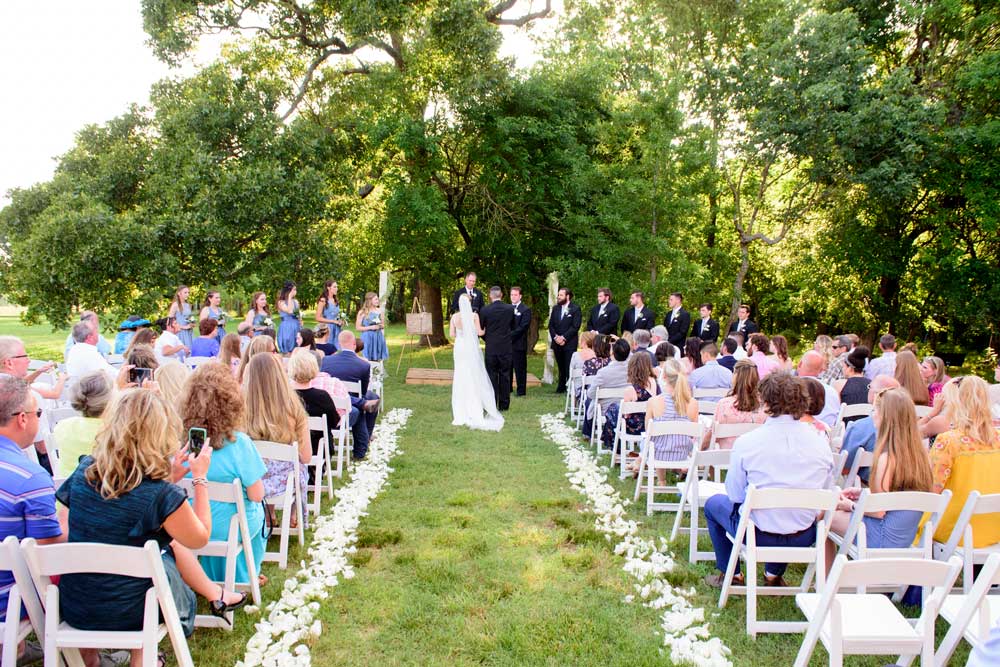 Not everyone will be ready for a completely outdoor wedding, so the tips today will also be helpful for those of you planning an outdoor wedding ceremony or even possibly an outdoor reception.
Benefits of an Outdoor Wedding
There are plenty of benefits of having an outdoor wedding. One, it could possibly save you thousands of dollars. Outdoor weddings usually don't require as much decoration or that you rent a big, expensive venue.
Two, your wedding guests might enjoy the warmth of the sun and the refreshing breeze that you would be missing inside a stuffy building. With that, they will also have more space, so people can be spread out during the wedding ceremony and space to roam around during the reception.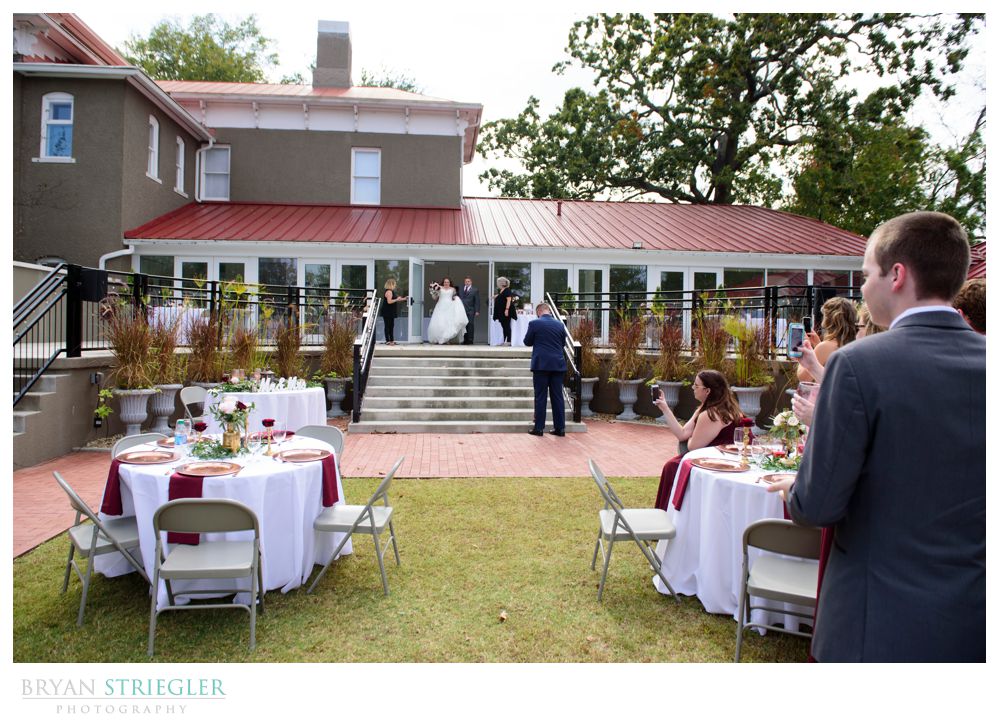 Three, depending on the situation, you might have nicer light. That means your wedding photos will have that bright and airy look.
Outdoor weddings also usually have a better view. You might have the wedding out in a field, deep in a forest, or maybe in front of a mountain. Chapels are beautiful, but they can't compare to that natural beauty.
Looking for some inspiration? Check out a few of my favorite outdoor weddings:
Cons of an Outdoor Wedding
Just like there are benefits of an outdoor wedding, there are some issues you will want to address to make sure everything goes smoothly for your wedding. The biggest concern would be the weather. That can cause all types of problems.
Another thing that comes with nature is bugs. Depending on the time of year, this might be a problem.
Besides that you have to deal with things an indoor wedding venue would have like bathrooms, sound equipment, and other rentals.
Cost of an Outdoor Wedding
Weddings are expensive, and an outdoor wedding might be cheaper than a traditional wedding. The first big factor will be where you choose to have the wedding. With Covid-19, many couples decided to use backyards or a park. Both are either free or really cheap. If you do go with someone's backyard, there's the added connection. The guests and bride and groom might have special memories already of the location and this would be another great memory to add.
Another thing to consider is how much will you have to rent. Using a backyard location will save a ton of money, but you might spend a good chunk of it on rentals. Things like chairs, tables, and tablecloths can be included with a venue.
Keep in mind there might be other expenses with a wedding outdoors that you wouldn't have with a traditional wedding. Many will choose to rent a tent, and we will talk about the benefits of that later. You might have to accommodate vendors with things like electricity, a dance floor, or special equipment for the caterer.
Find a venue that meets your needs
Brides and grooms are different and will want different things for their wedding. That means they need to find a venue to meet all fo those needs.
One of the most important things is finding a wedding venue or location with an outdoor space that is large enough for your guests. While you are searching for a venue or space, ask how many guests it can hold comfortably. Then, I'd reduce that number by 20% to allow for more spacing.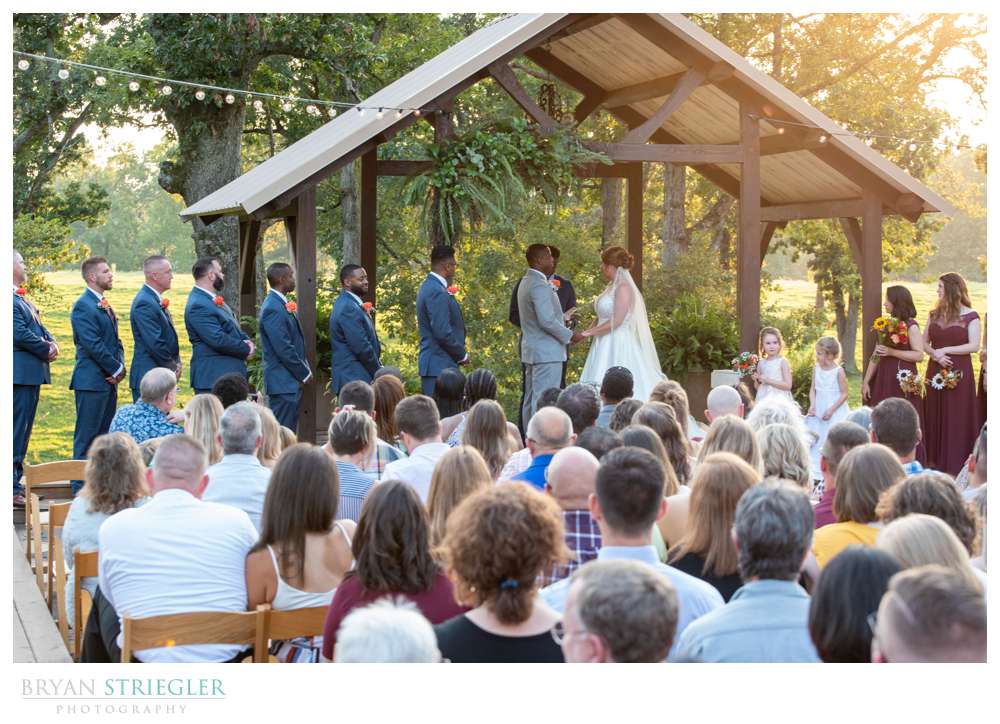 If you decide to rent an outdoor wedding venue, you will find that it might provide everything you need. Some of them will have large outdoor spaces and a dedicated outdoor ceremony site like the Chapel Ruins at Sassafras Springs. Plus, many will have an indoor option as well in case of rain. A real venue will also be able to help with wedding planning since it's what they do all the time.
Dealing with the Weather
Weather, by far, is the biggest thing that keeps brides and grooms from planning an outdoor wedding. Weather is unpredictable and can cause havoc on a wedding day. There are some things you can do to deal with the weather.
Wedding Planning to Deal with the Weather
The first step in having your event outside is to pick a month that has good weather normally. It will vary depending on where you live but in general, certain months are really hot and others are really cool. There are also months that usually have rain. It seems like October has become the most popular month because it falls in the middle of it all.
No matter what month you choose, that doesn't mean the weather will cooperate. You need to have a plan b or backup plan for the weather to keep guests happy.
To deal with rain, you can rent a tent. Some companies will let you put down a deposit and wait till a few days before to make a decision. That way, you only pay if you need it. The tent can also help with cool or hot weather. For hot weather, people can use it for the shade, and for the cold, some tents have ways to enclose it. Besides that, you can get fans or heaters.
Another thing to consider is the ground. Will people be able to walk comfortably and avoid ruining their shoes? You might need to create some for of walkway or get plastic slip-ons for shoes.
Lighting for an Outdoor Ceremony
Most people think an outdoor wedding is better for lighting. As a wedding photographer, I can tell you that's true only some of the time.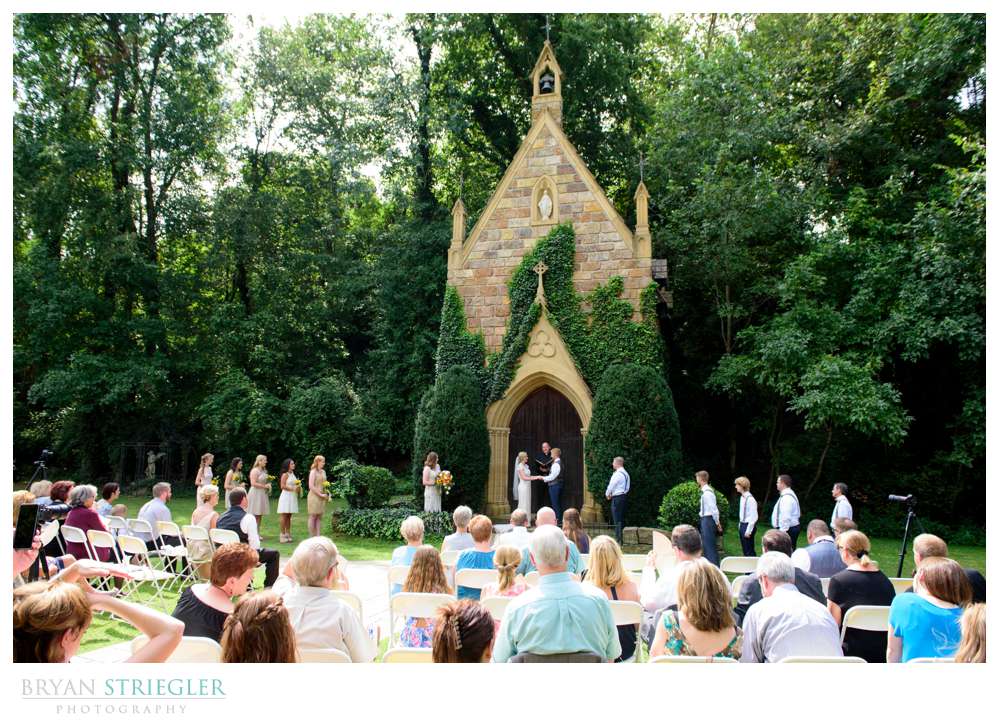 It is nice to have light, but it depends on the location and quality of the light. Strong, overhead light can create dark shadows on people's faces.
It also depends on the direction of the light. Your guests will not be happy if they looking directly into the sun. The same is also true for the bride and groom. You don't want them in a spotlight.
The lighting is going to be the best for an outdoor wedding either vary early in the morning or near sunset. That's when the sun will be the least intense.
What about at night? There won't be any light unless you set something up. You can string something up in the tent or possibly put some around the dance floor. It will definitely be more challenging to get a good photo in that environment.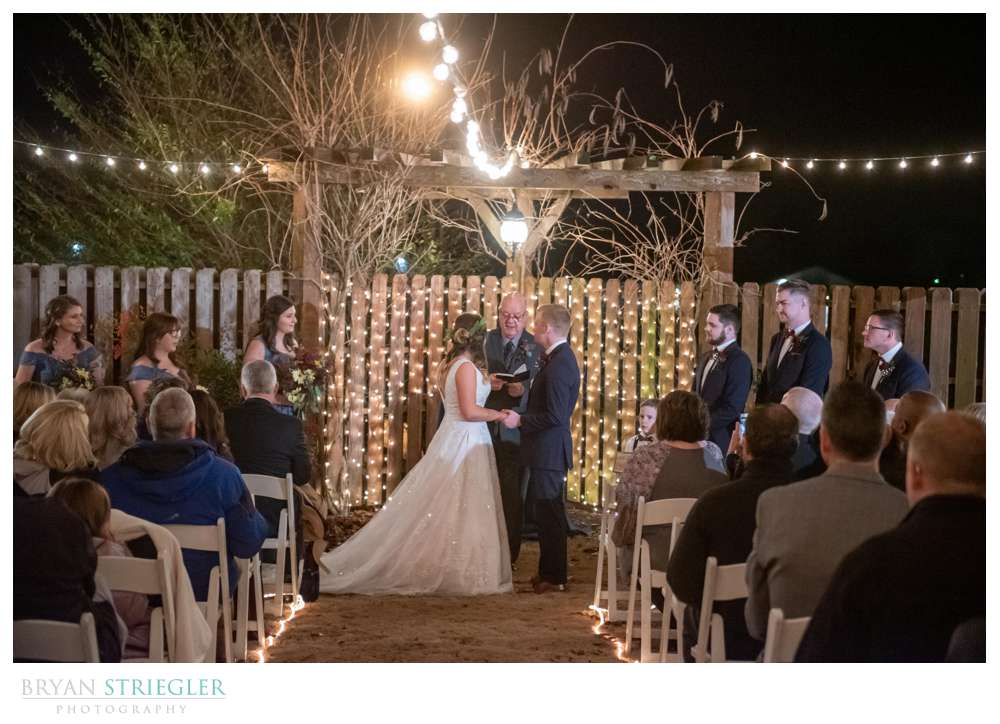 Preparing for the Wind
Wind is another thing you will need to plan for. I remember a wedding I photographed about 3 years ago. The wedding ceremony was outside, and the board for the knot tying ceremony kept falling over. I think I put it back about five times. Last year at another wedding, the centerpieces kept falling over and spilling water.
Think about how the wind might affect your décor. Are they heavy enough that they won't fall over? Can you wait to put some of them out? Is there anything you can use to keep them in place?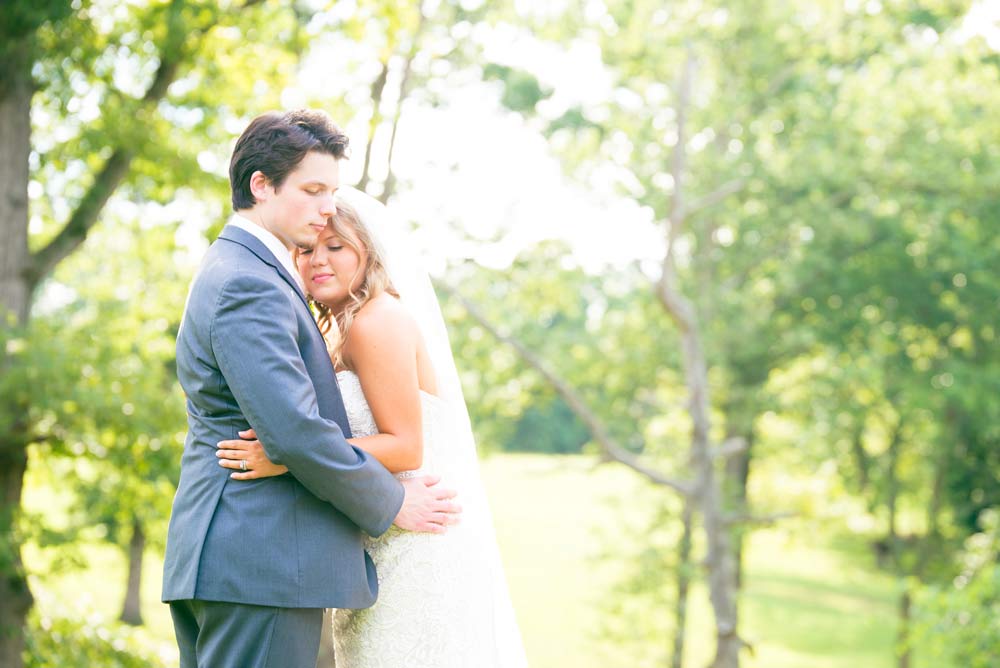 What about your hair? Will the wind be blowing it all over the place? You might want to consider having your hair up and tight to avoid a wind blown mess.
What should the guests wear?
In some cases, couples will give instructions on the dress code for the wedding. Depending on the weather, you might allow for more casual clothes so people will be comfortable. I know personally that wearing a full suit in the summer can be miserable.
Flowers that can Survive
When you are talking to your florist, you will need to tell them you are planning an outdoor wedding. It's something they need to know. Then, they can guide you to the right types of flowers.
Some flowers can handle the extreme temperatures and others will fade quickly.
Find an Experienced Wedding Photographer
You would think it would be easier for a photographer to shoot a wedding outdoors, but it's not. Most photographers will choose to shoot in natural light, but that doesn't mean the light will be perfect.
Your photographer will need to have experience dealing with different lighting situations. He or she will have to be able to find good locations for portraits.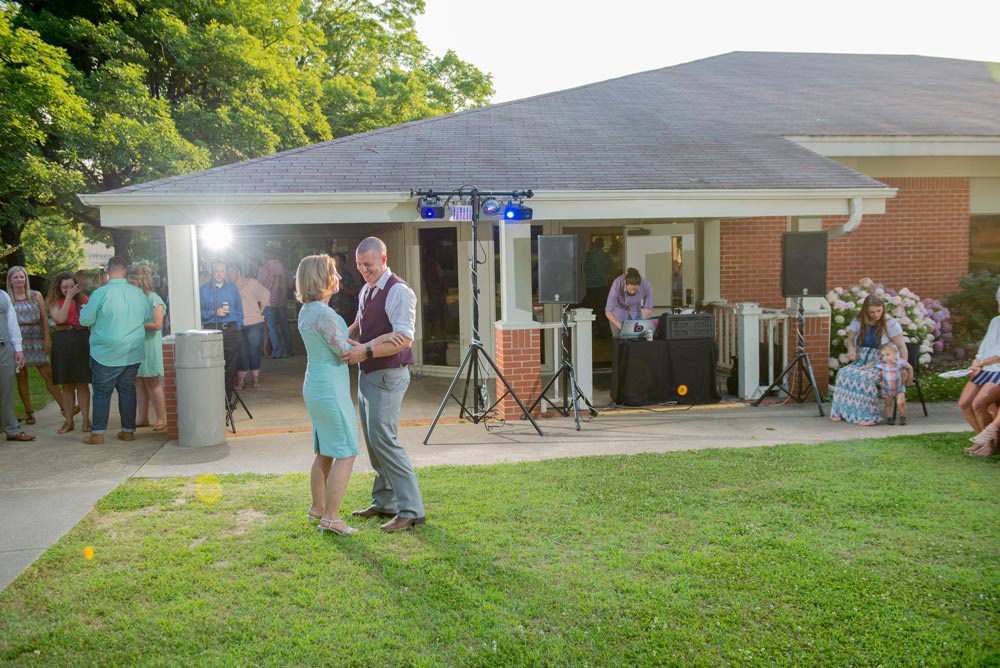 The tough part will be at night during the reception. Many amateur photographers don't know how to use flash. At night, there will be very little available light, which means flash is a must.
Hire a Caterer with the Right Equipment
Most wedding venues have a kitchen and tools for the caterer. Will your caterer be able to prepare the food without this area? Do they have equipment that they can bring? Will it cost extra?
For some companies this won't be an issue, but others will struggle. One option is to hire a food truck. They can drive to your location, and it's easy for them because they are used to working within the truck.
Other Random Issues to Deal with
Planning a wedding is always really involved. Planning an outdoor wedding just requires different things. Here are a few more things you will need to prepare for.
Bugs and Nature
When you are outside, you will be dealing with nature. The most annoying thing is swatting at flies or mosquitos. You can put out citronella candles, but that might not get rid of all of them.
Make sure your guests know you are having an outdoor wedding so they can prepare. They might choose to put on bug spray or others might need to be ready to deal with allergies from stings or pollen.
The Wedding Cake
I love wedding cake, and I think that's the real reason kids come to a wedding. How will the outdoors affect your wedding cake?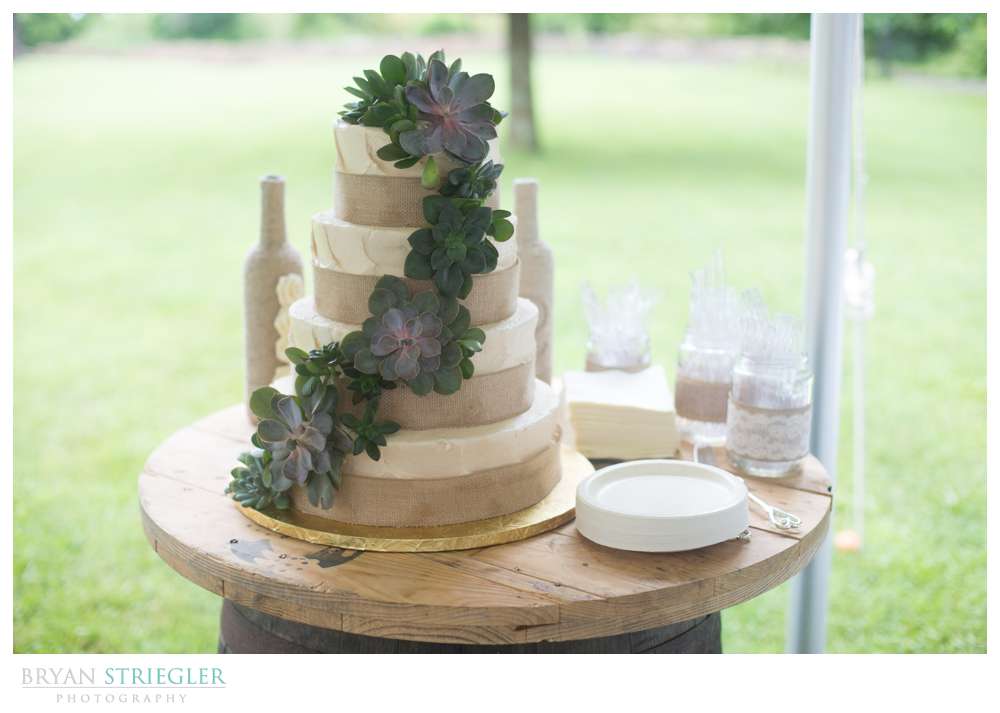 The first issue will be where to store it for the majority of the day. Will there be a fridge nearby or will it need to be delivered during the cocktail hour or wedding reception?
How will the cake do in the heat? We shot a wedding that was outdoors about 5 years ago, and the cake started melting and almost fell over. Luckily, my videographer ran over and saved it.
Hiding the Bride for Wedding Ceremony
One of the most emotional moments of the day is when the doors fly open and the bride appears. Well, how do you do that without a door? How can you hide the bride until the right moment?
The best way I've found is to make an announcement for everyone to look toward the front until told (especially the groom). Once the bride is in place, the officiant can signal everyone to turn. Everyone will turn at the same time and create that moment.
Sound System
Throughout the big day, you will need a good sound system. If you are using a professional wedding venue, they might have that included. Other outdoor locations will need one because it can be harder to hear outside with open spaces.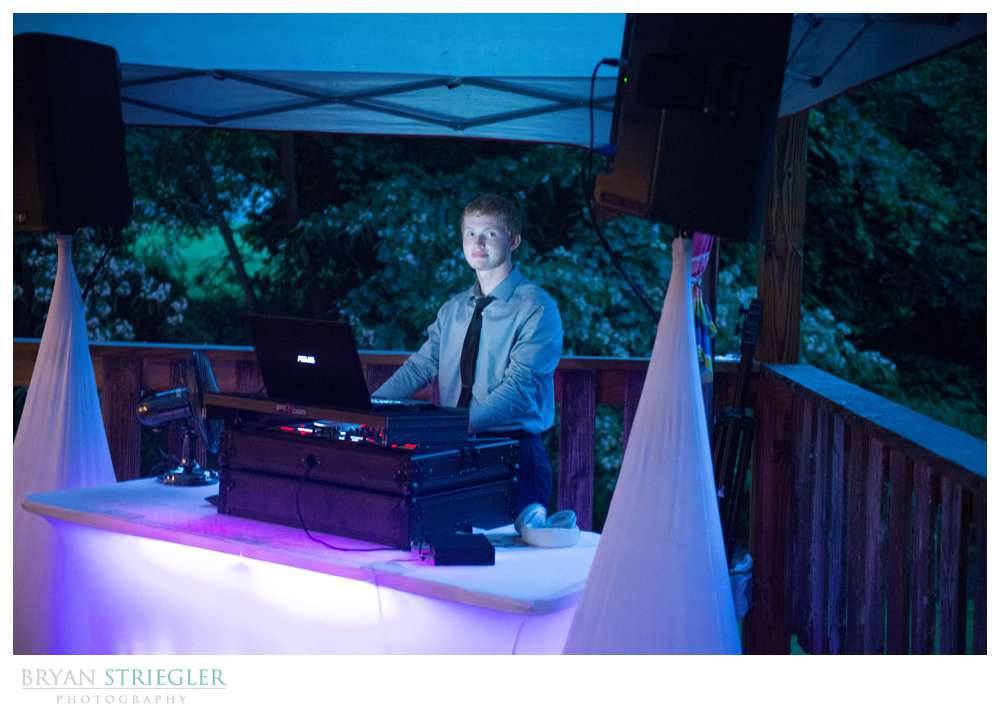 Talk to your DJ and see if this is something he or she will provide. Sometimes it's included and other times it's extra. You can also rent the equipment on your own but then you would have to pick it up, set it up, and figure out how to use it. It's usually easier to use a DJ.
Electricity
To get married, you will probably need electricity. You'll need electricity for the sound equipment, for the lights, for fans or heaters, and possibly for the caterer.
When you start looking at the wedding site, find out where the power outlets are. Will you need long cords? Can you only plug in a certain amount of things without throwing the breaker? Will you need to pay for the electricity?
Bathrooms
My youngest son has no problem going to the bathroom out in public, but I imagine that's not a good idea for your guests. Is there a bathroom in the vicinity or will you need to make a plan?
One of the good things about a professional venue is that they are prepared for this. They will have bathrooms and they will be clean. The same can't be said for park restrooms.
You can rent some portable bathrooms, but not are all equal. On the low end, you have the Porta Potties you find at events and construction sites. On the high end, I have seen a trailer, and inside looks like a real bathroom. Either way, you need to also consider how many can go in at a time. If your bathroom can only serve one person, there will be a long line of guests, especially during the wedding reception.
Planning an Outdoor Wedding
I am not going to lie, outdoor weddings can be a little nerve racking. There are so many things you have to consider and plan for before your big day that it is easy to get overwhelmed. From the weather reports in the forecast, all the way down to whether or not they will provide tables and chairs for our guests. With some careful planning ahead of time or the help of a wedding planner, you can make sure that these worries become much less stressful on your special day and you can enjoy the natural views, warm sun, and clean air! What worries you most about having an outdoor wedding? I'd love to hear from you! Leave a comment below with any concerns you might have and share what works best for making your outdoor affair go smoothly.