Planning a wedding can be stressful, but it is an important part of most people's lives. Postponing a wedding might seem like the worst thing ever because you will have to deal with all those decisions again in the future. However, there are many reasons why postponing your marriage may be just what you need!
Postpone or Cancel Your Wedding
If you are thinking about postponing or canceling your wedding, both are a huge decision. There many reasons why one would choose to do either, but I think the process is very different. Today, we are going to focus on putting off the wedding versus canceling it. Check out this post if you are leaning toward canceling your wedding.
How to Postpone Your Wedding
When considering a postponement, it's important to keep in mind the many other people who would be affected by the decision. With many parties involved, including family and vendors, it's best to make decisions from that perspective.
While you may postpone a wedding, don't let the drama of it all weigh you down. There's no need to share all of your problems all across social media or try to pick a fight with friends and relatives.
Stay Informed
With Covid-19, things are constantly changing. Some states are completely open while others still have very strict rules. It's a good idea to keep up to date with everything that is going on.
Also, do not overreact. Getting upset isn't going to solve your problems. Most likely, it will just make things worse. Instead, check the news once a week to see how things have changed versus obsessing over it daily.
Wedding Insurance
Many couples bought an insurance policy just for the wedding. Depending on your policy, you might be able to recoup some of the costs to postponing your wedding. The best way to find out is to call your provider.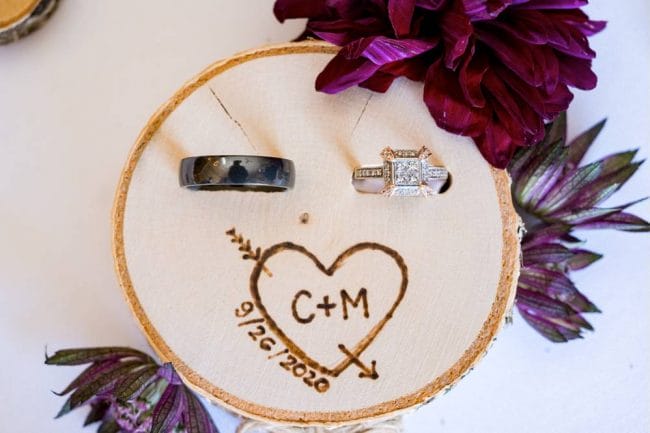 If you don't have wedding insurance, it's probably too late for your current situation, but it might be a good idea to get coverage for the new date.
Get Opinions from a Professional
If you're considering changing the date of your event because something has come up, it's important to speak with someone who can offer unbiased feedback. Consider speaking with a planner or venue professional for an impartial opinion before making any final decision! You need to be able to hear and consider what they have to say without feeling overwhelmed by emotion.
Calculate the Costs of Postponing
If you decide to postpone your wedding, there is a cost to that. Be prepared to lose deposits or services that have already been provided. For example, a wedding planner might have already spent several months working on your wedding and will need to be paid for that. Before you think about postponing or even canceling your wedding, take these steps to calculate the cost.
Reread your Contract:
Every wedding vendor you hired should have a contract. Go back and reread them. What is the vendor's cancellation policy? Will you be able to get any of it back or are you expected to make the final payment? Wedding vendors will often use force majeure clauses or "acts of God" to protect themselves if they can't fulfill their obligation. This might actually work in your favor. For many, a year ago, Covid-19 was used by many to receive their money back, but that might not apply now. If you are unsure, talk to a lawyer.

Expect Additional Costs
Just as the price of gas and plane tickets and other things change throughout the year, so does the cost for wedding vendors. When you pick a new date, you might have additional costs.
In the wedding world, Saturdays are the most popular days and there are certain months that everyone wants. If you were to switch from a Friday to a Saturday or a non-popular month to prime season, expect to pay more.
Additionally, a change of date could mean that travel needs to be rebooked for vendors. This might mean they are being charged on their end for cancelling, so expect that cost.

Inform your Guests
You family and friends and other wedding guests have been planning and preparing for your wedding as well. Many of them have taken off from work or booked a flight. It's important to tell them you are postponing as soon as possible.
The proper etiquette is to contact everyone by phone because it's more personal and you can ensure everyone knows. In today's world, though, a text or email should be fine. Just make sure you confirm that the guests know.
Talk to Your Venue
The next step is to speak with the venue and ask for 3-4 open dates. Try to find an available time sooner rather than later. Things are going to get very busy for the wedding venues. They will have the normal people wanting to book plus any other people changing their date.
One idea is to go for a non-traditional day like Friday or Sunday or even a Thursday. The only downside is that can be difficult for guests.
Other Hired Vendors
Once you have discussed scheduling changes with your planners and venues, make contact with vendors to get rebooked. Vendors want the opportunity to provide you quality services, but they also are small businesses and must deal with other weddings and couples. It's best to talk to them as quickly as possible before they are booked up.
It might be best to start out communicating with all of them at once to save some time. Send out a mass email to your wedding vendors with your possible new dates. Then, focus on the vendors that are most important to you or can only handle one date. Traditionally, that's your photographer, videographer, and band.
Once you've checked all of their availability, you can move onto the others and see if they are open for the new date.
If possible, try to keep as many people from the original date as possible. You hired them for a reason and have already been working with them, so it will be easier for your wedding plans. Plus, you will save money by not losing deposits.
Be Understanding
The bad news is that most likely at least one or more people will already be booked for the new date. Most deposits are nonrefundable because they turned others away to save your original date. Please remember that they didn't choose to not be there for your big day; you changed the date.
This doesn't mean you can't continue your relationship. They can always give you tips and help with recommendations. For photographers, maybe they have a second shooter they can send or maybe they know a photographer with a similar style.
Choose a New Wedding Date
At this point, you've really thought about all the things involved with dealing with a postponed wedding. You've talked to your venue and each vendor about their available dates. Now, it's time to pick a new date.
Check with all the important people
Hopefully you've found a way to keep most of the people you've hired for your wedding day, but that's not the end of it. What about your family and friends? You need to communicate with them to make sure they are there to celebrate with you.
Take the options for the new dates and tell your guests the options. Then, each guest can tell you if that works.
Make the Decision and Let your Guests Know
Once you decide on a new date that works with your vendors and your guest list, send out a new invitation. The new invitation could be a physical one or a digital one to save money and time.
Rethink the Details
Winter weddings usually look very different than summer weddings. If you're new wedding date falls in a different season, you might have to change up all of your details. For example, were you planning an outdoor wedding ceremony? Will that work now? Maybe you wanted your wedding party wearing a certain color. Will that fit now?

Other Changes
There are a few other things you might need to change. First, do you need to adjust accommodations for your guests? Do you have rooms blocked off at a hotel? Check and see what you need to do to make that adjustment. Depending on what they have going on, they might be able to adjust or you might have to look for a new place. Don't forget to update that information for your loved ones. The easiest way might be to update your wedding website with the new information.
Next, don't forget about your honeymoon! Can you change the date for it? Like everything else, they might have fees or a cancelation policy.
Be Thankful
2020 was a crazy and sad year for many couples. The pandemic kept many from celebrating the big day. If you are still having to postpone, I feel for you, but be glad that things aren't like they were.
When you've got it all figured out, make sure you are thankful. Tell all the people involved and that helped you thanks. Make sure to recommend them to your friends and write plenty of reviews. That can mean so much to the health of a small business.
Wedding of Your Dreams
Just because you are having to make some changes doesn't mean your day won't be perfect and you can't party and celebrate. Yes, there is a lot involved to postpone your wedding, but in the end, it will be worth it.
You'll be there with your wedding party and closets family and friends and everyone will feel safe. You'll get to marry the person you love, and that's what really matters.